METAL DETECTORS AND HOW THEY WORK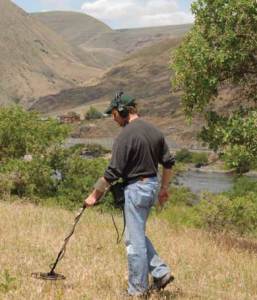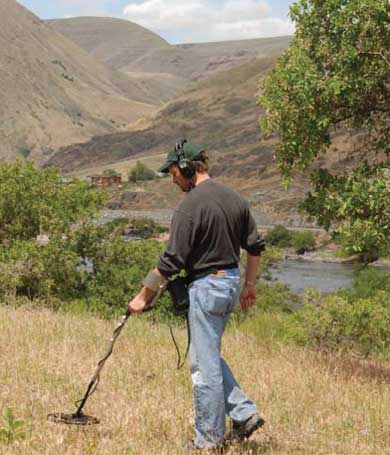 The modern development of the metal detector began in the 20's. Gerhard Fisher had developed a method of radio direction-finding, which was used for accurate navigation. It worked extremely well, but Fisher noticed that there were anomalies in areas where the terrain had ore-bearing rocks. He reasoned if a radio beam could be distorted by metal, then it might be possible to design a machine which would detect metal using a search coil resonation at a radio frequency. In 1925 he applied for, and was granted, the first patent for a metal detector. Although Gerard Fisher was the first person granted a patent for a metal detector, the first to apply was a man named Shirl Herr, a businessman from Crawfordsville, Indiana. His application for a hand held Hidden-Metal Detector was filed in February of 1924 but not patented until 1928.
FURTHER REFINEMENTS
Many manufactures of these new devices brought their own ideas to the market. White's Electronics of Oregon began in the 1950's by building a machine called the Oremaster Geiger Counter. Another leader in detector technology was Charles Garret, who pioneered the BFO (Beat Frequency Oscillator) machine. With the invention of the transistor in the 1950's and 60's, metal detector manufactures and designers made smaller and lighter machines with improved circuitry, running on small battery packs. Companies sprang up all over the USA and Britain to supply growing demand.
New top of the line models have fully computerized, using integrated circuit technology to allow the user to set sensitivity, discrimination, track speed, threshold volume, notch filters, etc., and hold these parameters in memory for future use. Compared to only ten years ago, detectors are lighter, deeper-seeking, use less battery power, and discriminate much better than ever.
DISCRIMINATORS
The biggest technical change in detectors was the development of the induction-balance system. This system involved two coils that were electrically balanced. When metal was introduced to their vicinity, they would become unbalanced. What allowed detectors to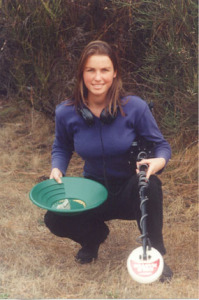 discriminate between metals was the fact that every metal has a different phase response when exposed to alternating current. Scientists had long known of this fact by the time detectors were developed that could selectively detect desirable metals, while ignoring undesirable ones.
Even with discriminators, it was still a challenge to avoid undesirable metals, because some of them have similar phase responses e.g. Tinfoil and Gold, particularly in alloy form, gold rings have copper or nickel in alloy form. If you discriminate certain metals, you could pass over a valuable find. Another disadvantage of discriminator was that they reduced the sensitivity of the detector.
NEW COIL DESIGNS
Coil designers also tried new types of designs. The original induction balance coil system consisted of two matching coils placed on top of each other. Compass Electronics produced a new design, two coils in a D shape, mounted back to back to form a circle. This system was used widely in the 70's, and both concentric and D type (or widescan as they became known) had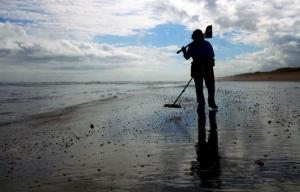 their following. Another invention was the advent of detectors which could cancel out the effect of the mineralization In the ground. This gave greater depth, but was in the non-discriminate mode. I worked best at lower frequencies that those used before, and frequencies of 3 to 20 kHz were found to produce the best results.
PULSE INDUCTION
It wasn't long before developers were looking at using a different technique in metal detection called pulse induction. Unlike the beat frequency oscillator or the induction balance machines which both used a uniform alternating current at a low frequency, the pulse induction machine simply fired a high-voltage pulse of signal into the ground. In the absence of metal, the pulse lessoned at a uniform rate, and the time it took to fall to zero volts could be accurately measured. However, if metal was present when the machine fired, a small current would flow in the metal, and the time for the voltage drop to zero would be increased. With these new machines brought a major advantage: they were completely impervious to the effects of mineralization, and rings and other jewelry could now be located even under highly mineralized black sand.
HOW METAL DETECTING IS AS A HOBBY
Coin shooting is looking for coins after an event with many people, like a baseball game, or simply looking for old coins. Some coin shooters conduct historical research to locate sites with potential that might have historical or collectible coins.
Prospecting is looking for valuable metals like gold, silver, and copper in their natural forms, such as nuggets or flakes like placer gold in creeks and behind large boulders in the stream beds.
General metal detecting is very similar to coin shooting except that the user is after any type of historical artifact. Detector users may be dedicated to preserving historical artifacts, and have considerable expertise. Coins, bullets, buttons, axe heads, and buckles from the Civil War are a few examples found by relic hunters.
Beach metal detecting is hunting for lost coins, jewelry, etc on a beach. Beach hunting can be simple or as complicated as one wishes to make it. Many a beach hunter familiarize themselves with beach tides and erosion taking place.
Let us not forget the metal detecting clubs across the United States, Great Britian, and Canada that exist for the hobbyist to learn from others, show off finds from their hunts and to learn from each other.
WHY WE SELL WHITE'S METAL DETECTORS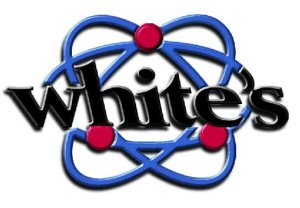 In 1950 , during the height of the search for uranium, Kenneth G. White built his first Geiger counter in the basement of his furniture store in Sweet Home, Oregon. Soon, work spread about Ken's new invention and he was building them for customers near and far. As the demand for uranium fell, Ken turned to metal detectors for finding gold, silver, and buried treasure. His first detector was a great success and marked the beginning of the metal detector industry.

ARE METAL DETECTORS BASICALLLY THE SAME?
THERE ARE FIVE BASIC TYPES OF MEAL DETECTORS
GENERAL PURPOSE: COIN/RELIC/TREASURE
    GOLD PROSPECTING
    UNDERWATER AND SALT BEACH HUNTING
    CACHE HUNTING/DEEP SEARCHING
    INDUSTRIAL AND SECURITY
SOME METAL DETECTORS are designed specifically for one type of searching. Example: gold prospecting detectors are designed to be extremely sensitive to small pieces of gold like placer gold. General purpose models are typically not designed to detect metals as small as a grain of rice but do offer better trash metal rejection compared to prospecting models.
HOW DEEP DO METAL DETECTORS DETECT?
THIS IS THE MOST FREQUENTLY AKED QUESTION and unfortunately the most difficult to answer! Most general purpose models are factory equipped to search for coin and jewelry sized metals at depths of 8 to 12+ inches, depending on metal size and the alloys in the metals. To detect beyond 12 inches requires larger accessory search coils and/or to give up attempts to eliminate trash metals.
DETECTION DEPTH VARIES WITH MANY FACTORS:
The size, shape, exact metal alloy and orientation of the object in the ground.
The size of the search coil. Soil conditions and the amount of mineral in the soil.
The experience and skill of the operator.
The metal detector used and the selection of the settings, particularly All Metal or Discrimination Mode.